PracticeAdmin & Sevocity: A Powerful Partnership

Talk to a sales team member today!
Call 844-269-4780, option 5
Email sales@practiceadmin.com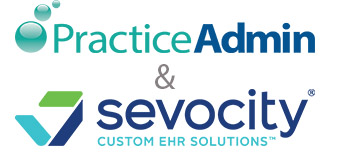 PracticeAdmin: Our Software, Your Success
At PracticeAdmin our goal is to provide affordable, easy-to-use tools that get healthcare professionals more money faster. When fully integrated with Sevocity's powerful EHR, practices use our practice management software for our robust scheduling capabilities and to track receivables. Our software platform subscription model not only includes software, but also solutions to make it easier for providers to get more money. We have designed a plan to make the transition to our practice management software platform simple and pain free. When you work with both PracticeAdmin and Sevocity, all of these features and solutions are available to you:
Our functional "Today Screen" with an overview of
Unpaid claims report updated every morning
Clear up-to-date summary of your A/R
Appointment alerts sent to patients
Quickly find patient issue alerts; past no-shows, or existing balances
Scan and store insurance cards and drivers' licenses information
Confirm patient eligibility
And more!
Other PracticeAdmin solutions
Clearinghouse services & EDI support
Software support & training
Additional user accounts
Software upgrades
Regulatory updates (ICD-10)
Preferred EMR interfacing
Ability to earn while growing
Electronic claims & remits
Data imports
Certified embedded ePrescribing
Consistent, graphical screens which are easy to follow and require little training to use.
Ability to quickly and easily add and modify personal preferences, including drugs, dosages, orders, review of systems, exams, etc.
Flexible flow sheets to allow you to easily track labs, vitals, and other patient information over time and graphically.
Specialty specific features and content that can be easily customized to individual practices and providers.
Free standard HL7 interfaces to labs, hospital systems and practice management systems.
Patient Portal – Physicians and customers can utilize Sevocity EHR to securely communicate with their patients over the Internet.
Outstanding support.
---
Find out how PracticeAdmin can become a part of your business success. If you have immediate questions, you can reach a salesperson at 844-269-4780, option 5, or at sales@practiceadmin.com