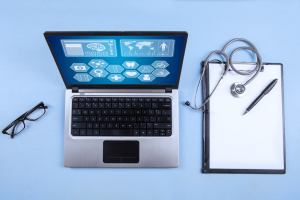 PracticeAdmin was built using sophisticated technology, but it's simple to use.
PracticeAdmin solutions are easy to use because they were designed by professional medical billers to work the way you work. We excel in practice management and medical billing solutions because it is our focus.
PracticeAdmin keeps it simple
No hardware required — all you need is the Internet.
Training, support, upgrades, and clearinghouse fees are included in the monthly subscription fee.
We ensure your data is protected — secure data center, redundant servers, automatic and offsite backups.
Software upgrades, claim code-set maintenance, and NPI database updates are done automatically every time you sign-in.
ICD-10 cross walk built in.
Maximize your EHR with PracticeAdmin interfaces
To keep your office workflow running smoothly, it's important that you have reliable access to your EHR, practice management and billing systems. PracticeAdmin has developed a sophisticated interface which has been successfully integrated with over 35 leading EHR and Health Exchange formats. PracticeAdmin works with your EHR provider to create the most efficient interface with PracticeAdmin so you have the freedom to choose your own EHR.
Custom interface design
Review our list of supported interfaces for EMR/EHR, lab and pharmacy, and Health Exchanges. If you don't see your preferred EHR in our list of supported interfaces, contact us and we can evaluate your system and determine how PracticeAdmin can create the ideal interface to suit your needs.
System requirements
The minimum system requirements to run PracticeAdmin software:
Reliable, consistent business quality Internet service — minimum Internet bandwidth available to PracticeAdmin applications of 3 Mbps for download and upload
Microsoft Edge (version 90 or higher) is the recommended browser to access the PracticeAdmin web applications. Google Chrome and Firefox are also supported.
Microsoft Windows 8.1 Professional or Windows 10 is needed to run the Billing, Scheduling, Receivables, and Connect applets
Microsoft .NET Framework 4.6.2 or higher is needed to run the Billing, Scheduling, Receivables, and Connect applets
Computer with a 1 gigahertz (GHz) 32-bit (x86) or 64-bit (x64) processor, 2 GB RAM, 500 MB free space on hard drive
Dual wide-screen monitors are recommended